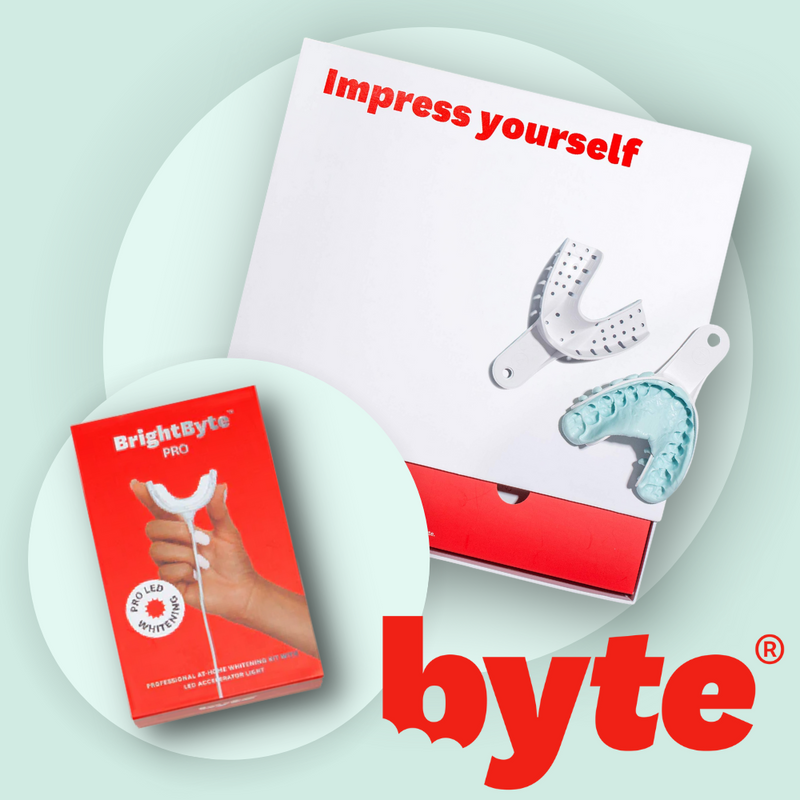 byte® | The Faster At-Home Invisible Aligner
Save over 80% today!
Click below to claim your at-home dental impression kit for only $12.95
Get your at-home impression kit for only $12.95 (normally $95.00)!
Designed to work from home: Orthodontist and dentist-directed treatment makes it easy to get the smile you'll love without ever going anywhere.
How it works:

Order your impression kit (kit includes impression trays, molding putty, gloves, & pre-paid return shipping box).
Send

byte® 

impressions of your teeth using the included pre-paid return shipping box.

byte® 

orthodontists personally review your impressions, create a treatment plan, and then personally explain your no-obligation treatment plan to you using a fully interactive 3D model.
Your custom aligners and step-by-step treatment plan is delivered right to your door!
Redemption Instructions:
Follow the link and click "Get Started" on the plan of your choice.
Complete checkout.
Your impression kit will ship the same day!
Enjoy byte's concierge service as you complete your impressions process!
Our Guarantee:  Your smile, for life.
You own your smile, and you should own it forever, so let's guarantee it. If at any time after going through your byte® treatment process your smile moves out of alignment, we'll help get it back at no additional cost.**
 **Lifetime Guarantee based on post-treatment compliance. See Guarantees for details. *Purchase of the Impression Kit includes the preparation of a full treatment plan.  To receive retainers and begin treatment, a treatment plan starting at $82/month is required.  See plan options here.
View Full Terms & Conditions