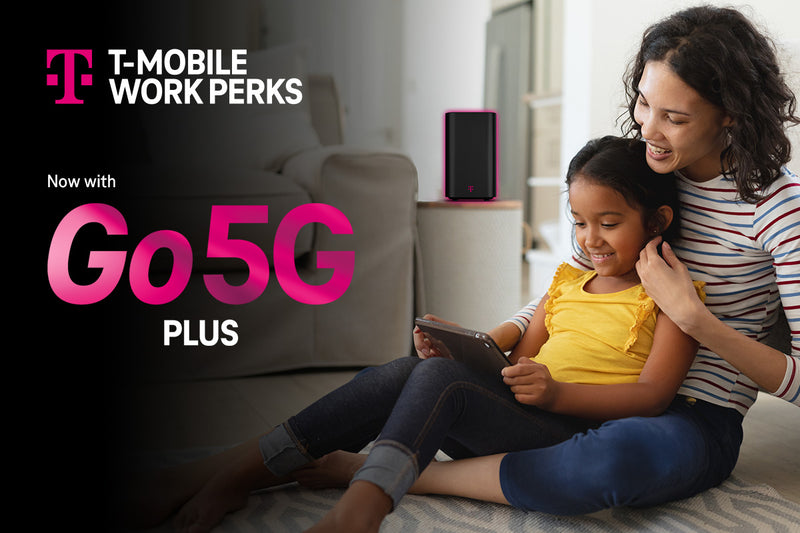 Save with T-Mobile Work Perks!
Get Exclusive Employer Discounts
Unlimited 5G talk, text, and data. PLUS Mobile Hotspot, Netflix, On-Board WiFi, and more with Go5G.
T-Mobile Work Perks is a program offered to employees at businesses and organizations that have a relationship with T-Mobile. A company needs to be signed up with T-Mobile for employees to access the plans and perks.
Eligible new and existing customers can save 15% while on Go5G Plus. You will receive a discount on up to five voice lines applied to Go5G Plus plan monthly recurring charge.
If you are employed by an eligible company, you are able to take advantage of this offer. Check with your employer or company intranet to see what other offers your company provides. Click the Check Online button above to see if your company or organization qualifies.
Unlimited talk, text, and data on our network
Netflix On Us
Mobile Hotspot – 50GB high-speed data, then Unlimited at 3G speeds
Unlimited Video Streaming, up to 4k UHD
5G access at no extra cost
Unlimited inflight Wi-Fi on domestic flights of U.S. based airlines
Scam Shield Premium
Up to 256 kbps international data speeds (in participating countries) – up to two times our standard international speeds
Unlimited talk, text, and data in Canada and Mexico – 15GB of 4G LTE data, then Unlimited 2G
Taxes and regulatory fees included
And more


The T-Mobile Work Perks 15% discount is good on up to the first five phone lines, however you can have up to 12 phone lines on your account.
Yes, receive Netflix Basic: 1 screen SD with 1 line; or Netflix Standard: 2 screens HD for 2+ line accounts when you activate voice lines on Go5G Plus.
View Full Terms & Conditions