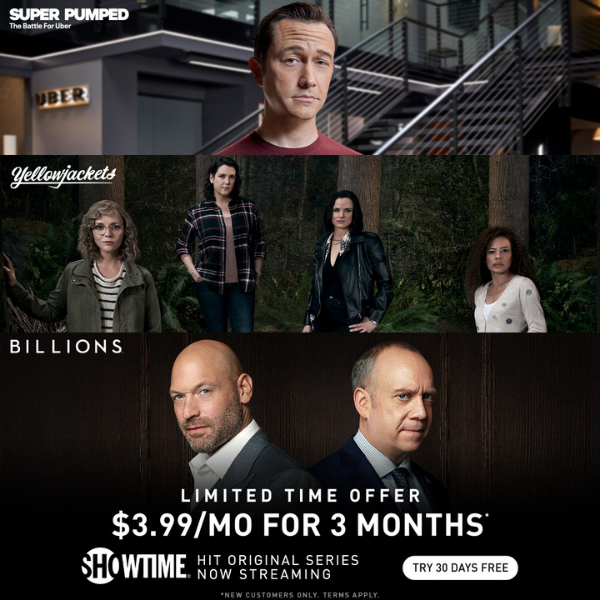 30-Day Free Trial then $3.99/month for 3 months
Get 30 Days for Free Now then Only $3.99 a month*!
Click below to claim your 30-Day Free Trial to SHOWTIME!
30-Day Free Trial, then only $3.99/month for 3 months (over 60% off!)
About This Offer
SHOWTIME is your one-stop home for critically acclaimed original series like Homeland, Billions and Shameless, groundbreaking documentaries, star-studded movies, and the excitement of SHOWTIME Championship Boxing. With new titles being added all the time, there is always something great waiting for you.
HIT ORIGINALS, SPORTS, MOVIES, AND MORE
- Exclusive access to the latest episodes of the hit SHOWTIME original series, including Homeland, Billions, and Shameless
- Stream entire seasons from SHOWTIME'S library of all-time favorites like Dexter, The Affair, and Ray Donovan
- Watch wherever life takes you and stream on any of your favorite devices
- Download full episodes, movies, and more and watch later offline with the SHOWTIME app
- Always ad-free with no cable subscription necessary
- Now only $3.99/month for 3 months following 30-day Free Trial

Stop waiting and start streaming today. Now just $3.99 for 3 months after an initial 30-day free trial; $10.99 after the first 3 months. Cancel anytime.
The Fine Print
Offer must be redeemed by clicking through this page and redeeming at SHOWTIME.com. Only valid for new subscribers. A promotional rate of $3.99 is applicable to the first three months after the free trial period. After the promotional period, standard rates apply. Cannot be combined with other offers. TO AVOID BEING CHARGED, CANCEL YOUR SUBSCRIPTION BEFORE THE END OF THE FREE TRIAL PERIOD. SHOWTIME and related marks are trademarks of Showtime Networks Inc., a ViacomCBS Company.
View Full Terms & Conditions